The Executive Committee of the European Mathematical Society at its meeting in Bedlewo, Poland, March 24-26, 2000, decided to continue the work started by its committee for the World Mathematical Year 2000 in a new

Committee for Raising Public Awareness of mathematics with the acronym RPA.

The sculpture Genesis by John Robinson has been taken as the logo of the project RPAMath (Raising Public Awareness of Mathematics) and the continuing committee of the EMS. The version presented here is by Nick Mee of Virtual Image.

A general aim of the RPA committee will be to bring forward that

Mathematics bridges gaps in Culture, Science and Technology.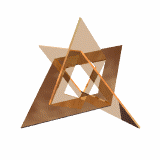 Sculpture by
John Robinson

Animation by
Nick Mee